With RevDeBug extension for Visual Studio you could replay recordings for any C# code that was run together with RevDeBug. To get access to recording from remote applications you need to setup connection with RevDeBug server.
First thing you want to do, is to download RevDeBug from Visual Studio Marketplace. You can go directly to this link or download it through your IDE. Click on TOOLS > Extensions and Updates > Online, search for RevDeBug and click "Download"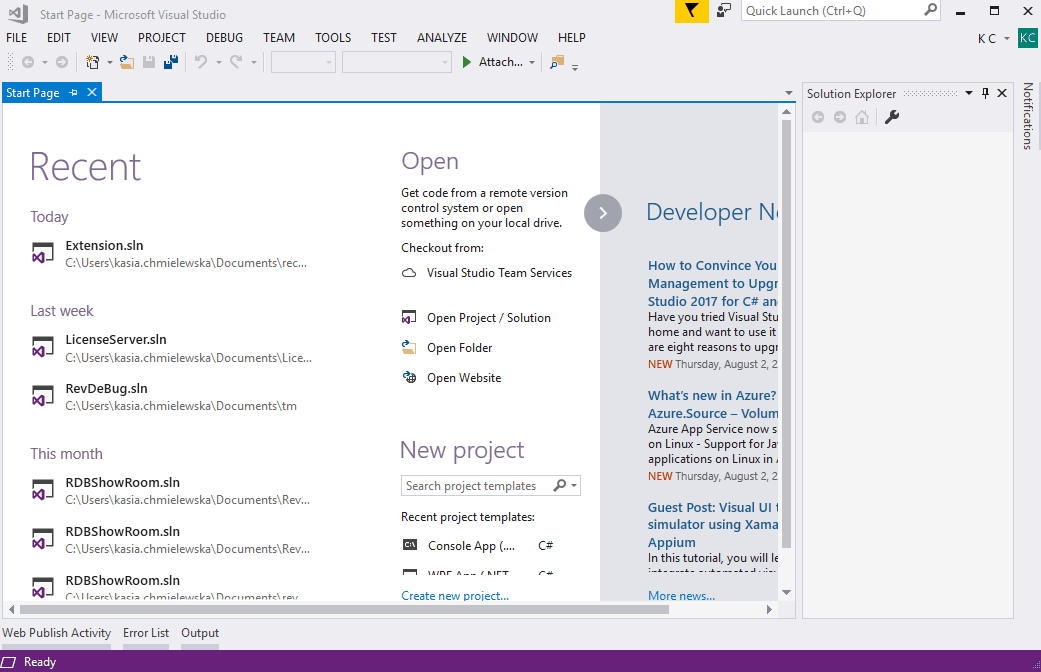 Once RevDeBug has been downloaded and VS has restarted itself, you will see the RevDeBug Startup page. From this place you can create your RevDeBug account to activate the extension features. Or, if you already have an account, simply log in.
RevDeBug offers free extension for Visual Studio. Without RevDeBug server it's limited to work only with code that runs locally. The only condition to use it is registering inside RevDeBug login panel, which you may find at Visual Studio after the installation process.
Add RevDeBug NuGet repository to your solution. You can do that globally in Visual Studio settings:
Or by adding nuget.config file on solution level:
<?xml version="1.0" encoding="utf-8"?>

    <!--To inherit the global NuGet package sources remove the <clear/> line below -->

    <add key="nuget" value="https://api.nuget.org/v3/index.json" />

    <add key="rdb" value="https://nexus.revdebug.com/repository/nuget/" />
Next use the NuGet package manager to add RevDeBug dependencies by adding the following NuGet packages:
After searching for a RevDeBug package, select RevDeBug.Net.Compilers.Toolset and RevDeBugAPM.Agent.AspNetCore
If you want to connect your Visual Studio with RevDeBug monitor go to C# documentation​